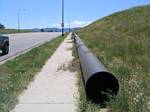 More pipes mean more people
and less open space...
Sally White is a naturalist who knows a lot about Green Mountain and the adjacent Front Range's geologic and biologic makeup. She leads nature walks and has all kinds of interesting experiences, information, and advice. Her Foothills Fancies blog is well worth a visit plus she asked that I make available to everyone her Weeds on our walk flier and the state of Colorado's Noxious and Invasive Weed List - check 'em out!

Oh, in Sally's blog she describes a naturalist like this, "Naturalists look at things (that's why they're usually so slow). Hikers, bikers, others may look at scenery, I'm willing to admit that, but naturalists LOOK, really look, at things. (And touch them and smell them and whatever else.) They may, depending on their type, be looking at or for birds, butterflies, insects, flowers, trees, ferns, spiders, grasses, shrubs, lichens, geology, rocks, fossils, water, patterns, snakes, salamanders, frogs, fish, fungi, bugs, big critters, little critters, or scat, to name a few --but they are most likely looking AT something. They may be looking at or for a specific KIND of something, like carrion beetles, zeolites, sulfurs, oak galls, rock tripes, or moonworts. They may even be looking at or for all of the above."

She goes on to say, "Thus, naturalists are just different. Not right or wrong, just different. All part of that human diversity we cherish. The thing is, they need open spaces, especially relatively untrammeled open spaces, for their chosen 'sport.' Tamed urban spaces just don't cut it the way remnants of the wild, however modified, still can." - although I haven't asked her, my guess is that Sally doesn't appreciate the pipes and other development along Green Mountain any more than I or my neighbors do...