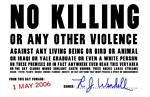 (Click for larger view)
















The five Buddhist precepts can kind of considered to be similar to the Bible's Ten Commandments. These precepts provide moral guidance for lay Buddhists as well as monks and nuns. Here I again sum them up as they're so basic yet obviously important:
He who destroys life, who utters lies, who takes what is not given to him, who goes to the wife of another, who gets drunk with strong drinks -- he digs up the very roots of his life. (Dhammapada, 246-247)
The injunction against destroying life is known as the First Precept. The fact that this Precept and other teachings forbid killing and hurting is not in question or controversial although there is dispute, sometimes, about whom Buddhists are forbidden to kill or hurt (things like killing during war, or to protect somebody, can be confusing issues...).
Anyway, as far as hurting goes, the Buddha also tells us not to do it, either, and his suggestion looks pretty clear to me! Here's an example:
He who for the sake of happiness hurts others who also want happiness, shall not hereafter find happiness. (Dhammapada, 131.)
Because not killing and not hurting are so important, Buddha repeatedly asks us not to do either in many places throughout the Dhammapada.
In conclusion, it makes perfect sense to never hurt another being let alone kill them! In Deep Ecology there's been a longstanding "rule" that, We have no right to destroy other living things without sufficient reason. I agree!
- Roger J. Wendell